Storage Solutions – Cuddly Toys
Often, when I visit a client for the first time, one of the most common things I see is a long furry line-up of brightly coloured friends along the entire length of the child's bed. It's one of parents' pet hates and near the top of their list for solving. Don't get me wrong, I'm not completely heartless and I realise how attached kids get to their cuddly toys and comforters, but I do think one or two is sufficient for the bed and there are plenty of alternative and fun ways to store the rest.
In Thomas' room, I opted for a bed with a built-in bench at the end which is the perfect spot for a select few of his friends to hang out. The rest are tucked away in storage bags and are allowed out on rotation!
In Georgia's room, I've used a dolls' crib to store her cuddly toys. It's getting a little cosy now, but keeps them all in one place where she can easily access them and it encourages her to tidy them up at the end of the day as "we put them to bed" before she gets into her own cot.
SHELVING:
Whilst shelving is of course an option, I feel like we're just shifting the problem from the bed to the shelves, so unless it's a couple of well chosen toys mixed in with other decor, I'm not convinced it's the answer.
However, if you really don't mind them all being on display and just want a place for them to be put away at the end of the day there are plenty of options, ranging from toy hammocks, to swings and even dedicated soft toy zoos. Personally, I'm just not convinced that they all need to be on display, all of the time, but if that doesn't bother you or you have a very tasteful collection then they're definitely worth considering.
WALL LADDERS:
Floor space is often incredibly tight in children's rooms, and it's wise to make the most of any unused wall space. These wall bars by Kaos are a great idea for storage, take up very little space and the bars are perfect for favourite cuddly toys to be tucked behind with the others hidden in fabric bags. I wouldn't suggest these for a younger child's room as there's always a temptation they'll try to climb them, but use your own judgement here.
WALL POCKETS:
A similar idea to make use of unused wall space would be to use hanging wall pockets to display a few favourites. Numero 74, Ferm Living and 3 Sprouts are all good options.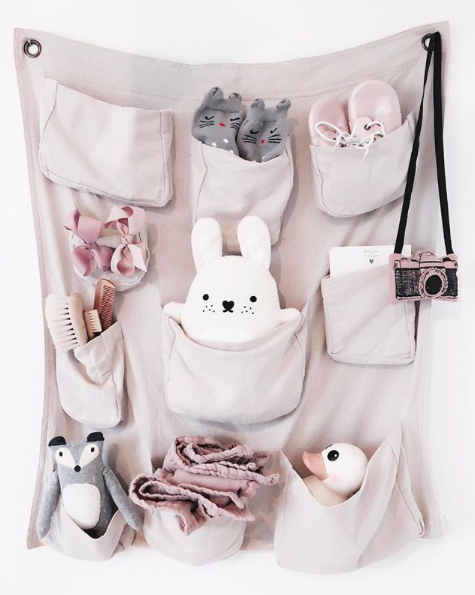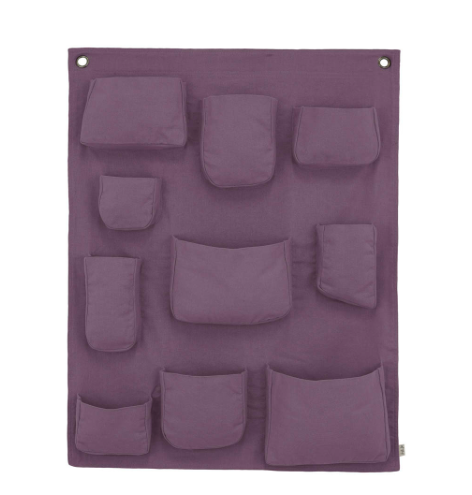 As for the rest, into bags, boxes and baskets they go:
STORAGE BAGS:
One of my go-to brands for storage bags is Tell Kiddo. They have a range of natural coloured paper and fabric bags. Not only are they brilliant quality, the bold typography and bear faces add an adorable touch to kids rooms.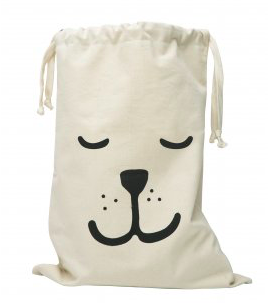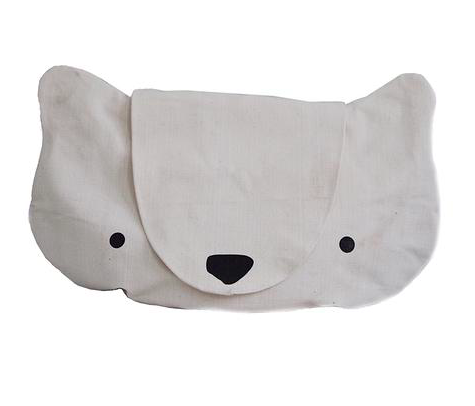 Another excellent choice for fabric storage bags is Wildfire Teepees, whose bags are also very sturdy, and again come in various monochrome patterns. Incidentally, I also use one of these for my children's laundry.
BASKETS:
You will already know by now that I'm a huge fan of baskets for toy storage and it's no different when it comes to cuddly toys. I absolutely love this idea of hanging them from wall hooks so the toys are all still accessible, but not cluttering the floor or surfaces.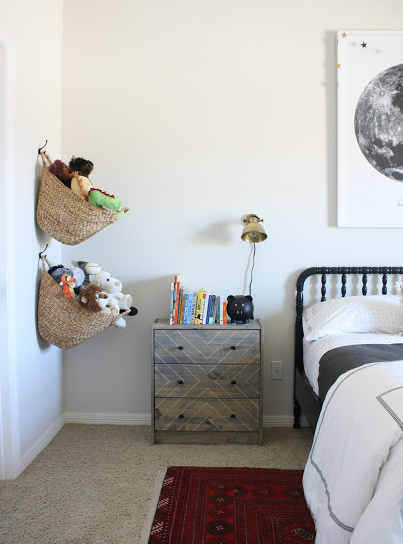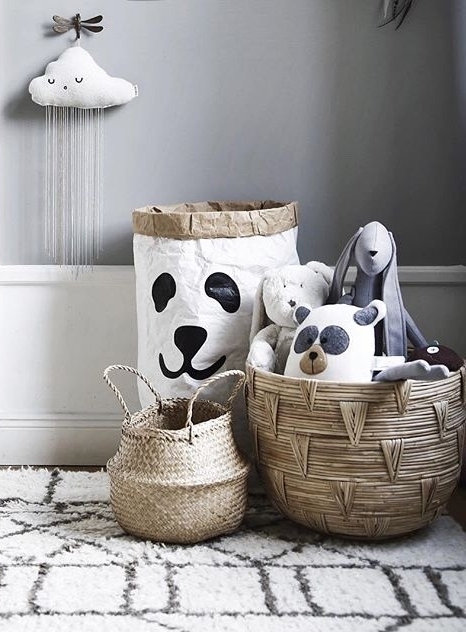 Belly baskets are the obvious choice as they're roomy and flexible. Don't be afraid to use colour, pattern or embellishments like tassels and pom poms. They're a great way of tying your design scheme together. These are all available at This Modern Life: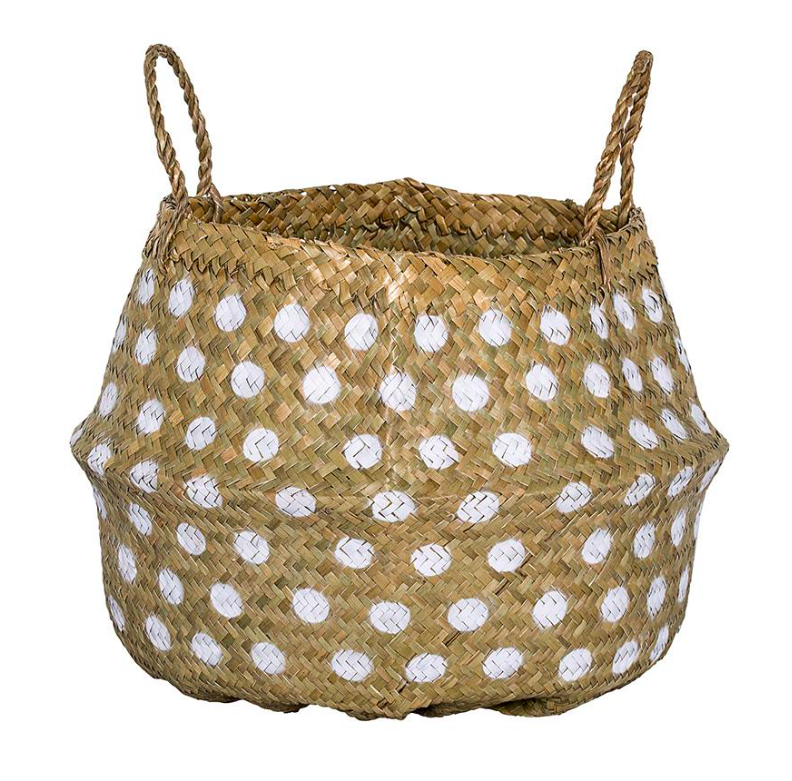 The Ferm Living wire baskets are another great option for cuddly toys, I recently used one in a little client's room for her extensive cuddly toy collection, together with the lid which she can use as an extra play surface for drawing and puzzles.
STORAGE CRATES:
Storage crates on wheels are brilliant for kids rooms, and can also be used to encourage tidying-up by making it a little more fun. We have the Ooh Noo storage crate in Thomas' room for all his books but it would be equally great for soft toys, and IKEA do a very similar version.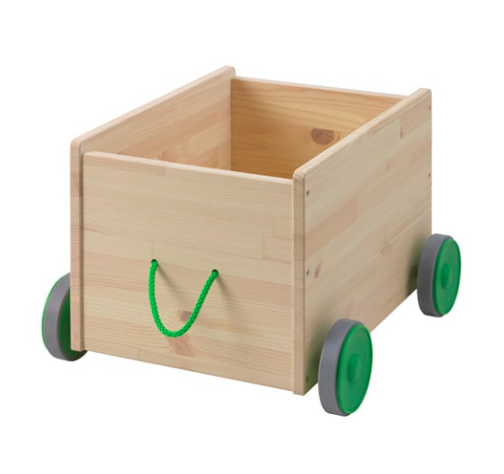 TRUNKS:
Last but not least, consider using a large metal or woven lidded storage trunk which have lots of space but can fully conceal even the brightest of cuddly toys. These examples are all from Habitat and would also make stylish dressing-up boxes.
Hopefully this has given you lots of new storage ideas, and a little extra wriggle space in the bed for your little ones. Let me know if you have any other great ideas, I'd love to hear them.